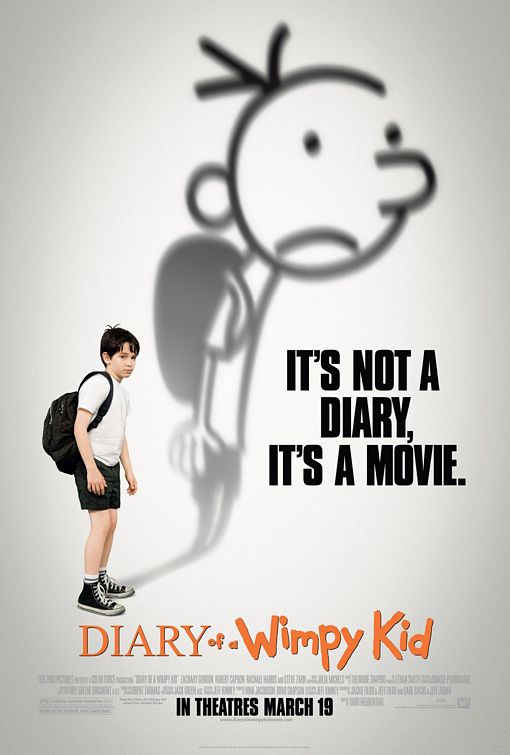 Filmage Friday
is a feature here where all about movies that are film adaptations of books. Whether they're upcoming, already released or ancient; this is the place where I'll give you a taster of the film if I've not seen it or a full review once I have. I will also add links to my reviews of the books themselves once I've read them.
The Diary of a Wimpy Kid
This is one for all the family and based on the book of the same name. It is a very popular book amongst children and I know because my brother's obsessed with them. He came across
The Diary of a Wimpy Kid: The Last Straw
in the library and now wants to read them all...in order and so do I!
The Film/Movie
Release Dates*:
Country

Date

Canada

19 March 2010

USA

19 March 2010

Singapore

25 March 2010

Philippines

3 April 2010

Malaysia

6 May 2010

Israel

8 July 2010

UK

20 August 2010

Australia

2 September 2010

Germany

16 September 2010
* Courtesy IMDB
The Wimpy Kid Movie Diary
(Book)
The Book
The Diary of a Wimpy Kid by Jeff Kinney
Release Date: April 2007
224 pages
Goodreads
Diary of a Wimpy Kid Books 1-4
Diary of a Wimpy Kid 5 will be released Nov 2010
I plan on taking my lil bro to see it. I think it will be a real treat and absolutely HI-larious.