I m totally getting into blog hops and here are two that I really enjoy. One's new to me and the other I've participated in twice already.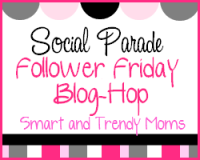 Social Parade Followers Friday Blog-Hop

is a weekly link-up hosted by Smart and Trendy Moms . It's created for socializing and getting new followers, fans, subscribers, readers without the pressure. Every week will be a new link-up that will focus on following blogs, getting new readers to your blog! There will also be a
Wild Card week
.
To take part click the pic above!
This for all us book bloggers to get to all the other book bloggers that we may not have come across in our bloggy travels. So click the link above to get book blogger hopping.
DISCLAIMER:

The Hop isn't just for you to throw your link in there and not visit any other blogs. It's all about networking and finding new blogs that are of interest.

So, in the spirit of the Hop, try to make some time to visit other blogs and don't post your link if you are not planning on visiting other blogs in the Hop that week

. This is a weekly event, so if you don't have time this week, that's fine! We'll see you next week!