This is the weekly meme dedicated to the upcoming releases that 'tickle our fancies' and is hosted by
Breaking The Spine
.
Tickling my fancy this week is
The Six Rules of Maybe by Deb Caletti.
Release Date:
16th March, 2010.
It's a YA book that I stumbled upon while cruising through Amazon for books to add to my collection.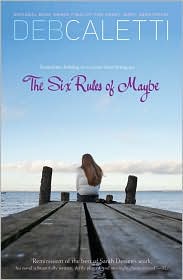 From Barnes & Noble
(Their synopsis was the best IMO)
:
Scarlett Hughes is overly involved in the lives of everyone around her, especially her neighbors, including: a young goth girl who chalks her very traditional wishes on the sidewalk; a forgetful mailman; and an older couple whose main excitement in their lives are the formal-sounding scam emails from foreign lands promising large sums of money. But when Scarlett's sister, Juliet, returns home from school--pregnant and surprisingly married to a sweet, handsome boy who she seems to have no interest in, but who is hopelessly in love with her--Scarlett is thrust solidly into her own life, and forced to take a look inward for the first time. The Six Rules of Maybe is about the necessity of dreams, as well as the necessity of facing reality and speaking the truth.
I love the title and the serenity of the cover. I am definitely excited about the book because I know what it 's like having to introspect not to mention facing reality.
What do you think?
I'm off to check out the other WoW posts.