x
I've gotten a new award and I'm very pleased and grateful. Cheers to the lurvely CMash over at
CMash Loves to Read
who thought my blog worthy :D It means alot because I'm still working on my blog, my reviewing style AND getting to grips with it all! Thanks everyone for putting up with me anyway.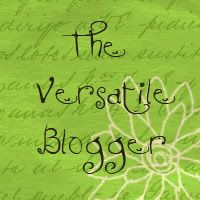 Here's the award.
And the rules for accepting this award are:
When you receive this award, you must share seven things about yourself and then pass it on to 15 blogs you have recently discovered that you enjoy!
Seven things about me? Hmmn...
I absolutely lurve Sushi, I think even more than my love for chocolate.
Bonoffee Pie is my favourite desert EVER!
I'm a film junkie...and not just mainstream BUT indie moves and foreign one as well.
I speak basic Spanish, French and Italian. In fact my Italian is probs more basic than the other two and I mean basic.
I'm the eldest child, grandchild and great grandchild in my family.
Seven is my favourite number; though I don't really care about having favourites in the numeratic (probably not even a real word) world (in fact I have problems with numbers, totally rubbish at Maths) and sometimes it feels forced when I'm asked what's my fave/luck number BUT I do enjoy the number 7; after all he ate 9.
Sometimes when I'm on my own...in my room I cry, laugh, dance around, jump up and down even scream. It depends on my mood.
I wish we could pick more than 7 because now I'm on a roll.
Now for the 15

newly

discovered blogs I

♥