I
should be posting my WoW choice this week but in all honesty I don't have one and then thought I should let you guys know what's going on...apart from my never ending hay fever.
I am very pleased...I just may be getting a job soon. Yep actual employment that would boost me CV and generate my tired cash flow. Thing is I'm already having a bad couple of bloggy/book weeks due to my hay fever I can only imagine being employed now will only make it worse.
Blogging is
hard
business. Isn't it?! I am still undecided about expanding/splitting my blog in two. I'll keep you posted.
Things to look forward to...my first giveaway and author event!!! EXCITING!!!!
...and lastly to all of you who take time to follow my lil ol' blog. Here's an award for you all! I do appreciate it and even though I've contemplated completely shutting it down about 4 times...I won't, I do lurve it as hard as I find it sometimes.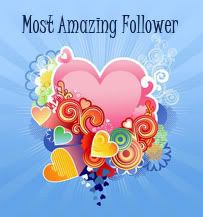 CHEERS GUYS!